Space Saving
Underbed Dressers
Fit All Bed Sizes and Styles. This Is the Quickest, Easiest,
Most Economical Way to Add Bedroom Storage to Your Home.
We are the underbed dresser specialists. We invented and patented this product, and have been in business for 45 years. Our highly automated factory can produce over 1,000 underbed dressers a day. Our products are built to last for generations. We have the best quality, the highest dollar value and a lifetime warrantee. No other product compares.

Yes, there are similar products on the internet. But, don't be fooled by a picture. If the price is low, so is the quality. Those products are mostly vinyl wrapped particleboard imports with low quality slides - the kind of products you find in discount stores that are cheap, but soon fall apart. If the ad doesn't say, "made in the USA", or tell you what it's made of, beware! Those particleboard products are very expensive to return if you are not satisfied.

If you're searching for a top-quality, American Made Product that is made of "real wood", and will literally last for generations, and is backed up with a lifetime warrantee, that's what we make! We have a huge inventory ready for immediate shipment, so we can ship your order immediately.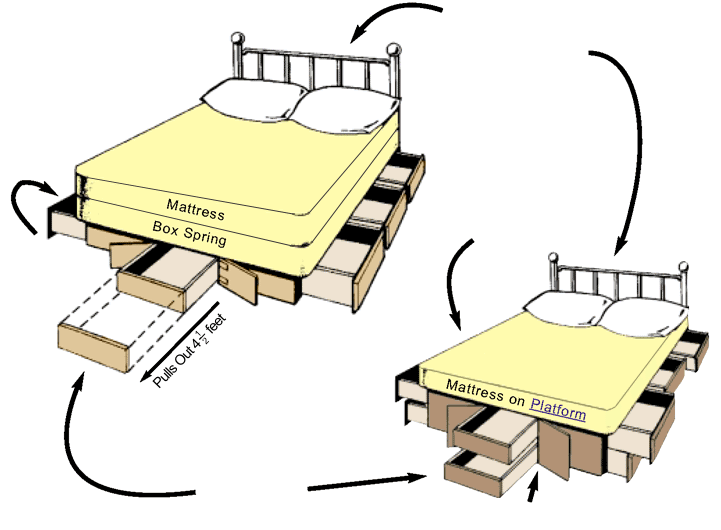 6 Drawer Dresser
(Item A1)
12 Drawer Dresser
(Item A2)
Underbed Dressers
Fit Under Any
Box Spring
or
Platform
Adjustable!
Fits F,Q,K beds
You Can
Use Your Own
Headboard
& Mattress With
Underbed Dressers
Solid Wood
Exterior
Tongue and Groove
Construction
OUR UNDERBED DRESSERS LAST FOR GENERATIONS!
These beautiful, solid wood underbed dresser drawers fit under any box spring, platform bed or waterbed. They
replace steel bed frames
, converting wasted space to convenient, dust-proof storage. Stackable -- Can have up to 18 large drawers. Drawers have deluxe ball bearing extension slides. The center storage area at the foot of the bed can hold up to six "optional" 4½ foot long
end drawers
. (Footboards can not be used.) All exterior parts are solid pine or oak. Underbed dressers are far more rigid and stronger than steel bed frames. Can also be used under any water bed. Universal design
fits all beds
except four-poster beds. Recessed for toe space at sides and end. 6 drawer unit is 9"H. 12 drawer unit is 18"H. 18 drawer unit is 27"H. All units are 74"L. Width adjusts to fit full, queen, or king size beds. (
Twin size available
.) Choose
finish and wood type
. Made in USA.
See Photos
"One of the few items we purchased that actually was better than we expected... Super product. We enjoyed putting it together."
G Dressler, WI
"It is indeed a rare pleasure to find a superior product that meets or exceeds all expectations. Your product has done this."
S. Jay, NY
We put it together and must commend you on an excellent product... The whole experience was a pleasure. It was nice to see that quality still exists in the United States."
E. Songaila, IL

Read Hundreds More Testimonials
©Copyright 2011 Anderson Manufacturing, Inc.