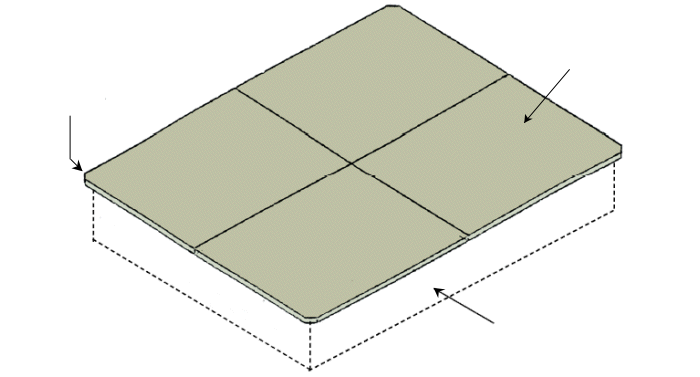 Replaces
Box Spring
Denotes
6, 12 or 18
Drawer
Underbed Dresser
Choose
Plywood or
Strandboard (OSB)
All
Corners
Trimmed
Off
Our
STANDARD PLATFORM
is used to support all mattress types and sizes. It attaches directly to the
Underbed Dresser
and replaces the box spring. A platform is generally (but not always) used with a 12 drawer Underbed Dresser to reduce bed height. The platform corners are trimmed and the edges are smooth (taped). The platform is made of
strandboard
(OSB) or
plywood
. Platforms are cut slightly smaller than mattress dimensions to hide platform edges.
See Photo
Top of platform to floor is: (On 6-drawer Underbed Dresser 9.5") (On 12-drawer Underbed Dresser 18.5") (On 18-drawer Underbed Dresser 27.5")
Platform is not necessary when using a box spring.
NOTE: If you are ordering our bookshelf headboard or bedside tables, you must order our Deluxe Platform (C2). If you are ordering our Pure Health® Mattress, you must order platform C1 or C2. We recommend platform C2 (Shown below) for our mattress.
Scroll Down
to see
Deluxe Platform
↓