Bed 2
Solid Wood 12 to 16 Drawer Underbed Dresser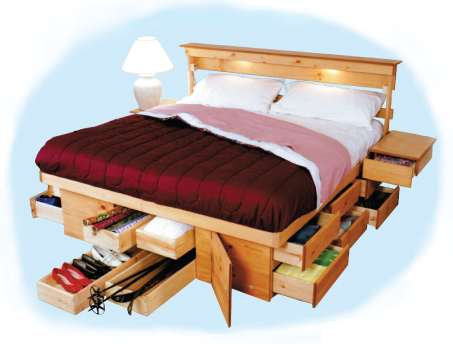 Made in USA
Choose Only
The Options
You Want
Optional
Lit Headboard
Optional
Platform
Optional
Side Table
12 to 16 Drawers
Underbed Dresser
Low as $977.
Equivalent to
3 Large Dressers
Optional
12" Wide X 4-1/2 Ft. Long
End Drawers
Adjusts to Fit
All Bed Sizes
Height 18"
Our 12-Drawer Underbed Dresser is our most popular model. It's the quickest, simplest and least expensive way to add storage to any home. It's the perfect height and provides loads of storage. It has 6 large drawers on each side for folded items, and can have up to four 4-1/2 foot long End Drawers to hold your long, bulky, odd shaped items. One drawer can hold up to 20 pairs of ladies' shoes! It eliminates and saves the cost of the box spring, bed frame and 3 wall dressers. 1,000 Lb. Weight Capacity! It saves space and cleaning, and more than pays for itself from savings.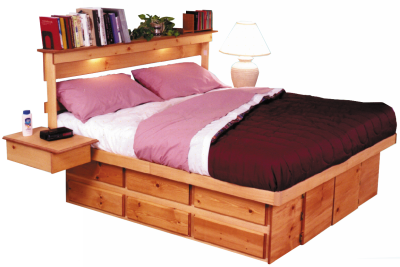 Size: 75 L x 18 H
Width Adjusts to Fit All Bed Sizes
12 Side Drawers 19 W x 17 D x 6 H
Four 4-1/2 Ft. End Drawers "Optional"
Exterior Solid Oak or Pine
Full Extension Ball Bearing Slides
50 Year Warranty
Tongue & Groove Screw Construction
Made in USA
To Get Quote Scroll to Bottom
Scroll to Bottom to Get Quote or Place Order
©Copyright 2011 Anderson Manufacturing, Inc.