DRAWER SLIDES
Solid wood drawers and quality drawer slides are crucial!
If the drawers fail, the dresser becomes worthless!
OUR SLIDES
are
full extension
, heavy duty, ball bearing drawer slides mounted to
solid wood
. They are the type of slide you will find on the highest quality kitchen cabinets or filing cabinets. Because they are
far stronger
(75# rating) and have
telescoping
precision
ball bearing
sections, the drawers can be pulled completely out beyond the dresser face to make loading simple! See drawing below.

Mattress
Platform
Underbed
Dresser
Bed Spread
Not In The Way For Loading
Solid Pine
OUR
Slides
75# Load Rating!
Pulls Out Beyond
Spread For Easy Loading
Full Extension Slide
Last for a lifetime!
---
Solid Wood Drawers
19"W X 17" D X 6"H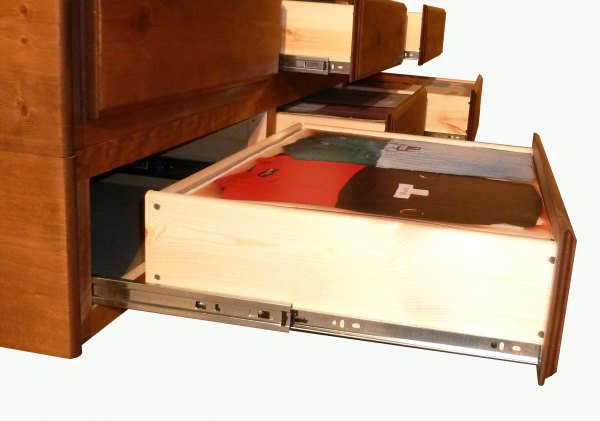 ---
COMPETITORS SLIDES
are side mounted drawer slides (sometimes called "euro slides"), and are usually
mounted to fiber board
. They are the type of drawer slide that is standard on low end furniture. They are
far weaker
, and do not allow the drawer to be completely pulled out of the dresser for easy access and loading.
Not recommended.

Box Spring
or
Platform
Underbed
Dresser
Bed Spread
Gets In Way
Of Loading
Fiber Board
Competitors
Slides
(far Weaker)
Check out how
1/4 of Drawer Remains in
Cabinet When Fully Opened
Shaded Area Difficult
to Load, 1/2 of Drawer
is Blocked by
Bedspread
Standard Drawer Slides
Short life span
Drawers
Hang Down
Due to Drawer Slide
Weakness
©Copyright 2011 Anderson Manufacturing, Inc.