Sleep Number® Bed
Price Range:
$1945 to $10,850
Average King Size: *
| | |
| --- | --- |
| Mattress | $4,169.98 |
| Foundation | $449.99 |
| Legs | $159.99 |
| 6% Sales Tax | $286.80 |
| | $5,066.76 |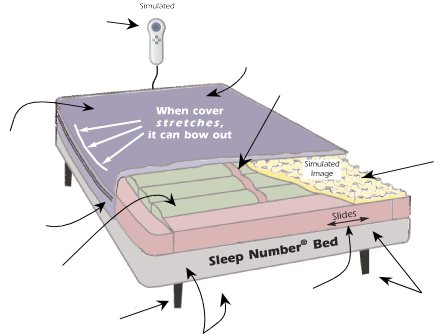 Firmness Control
Has Limited Functions
50% of Number Beds
have no memory
or fast-fill feature

There Is
No Wool
Filling

Foam
Center Divider
Is Detectable
To Sleepers

Mattress Cover
Can't be
Laundered!

Held Together
by a
Breakable
Zipper!

Air Chambers Have
"Bumpy"
Washboard Shape

Bed Legs
Give Limited Support
Create
Dusty, Wasted Space
Cost $160!

Mattress
Slides on
Foundation

Totally Wasted Space
Accumulates Dust!
Hard to Clean Under Bed!

Sculptured
Foam
Provides
Very Little
Support!

No Memory Foam!
in Sleep Number® Beds
Costing less than $4300!

Mattress Foundation W/Legs
Fabric Covered Plastic
Can Flex & Break
Huge Space-Waster
Cost $620!

*Check current Prices

The Sleep Number® Bed advertising cost can amount to over 100 million dollars annually. The cost is tacked onto the cost of their mattresses. So, if you purchase a Sleep Number® Bed, you will be paying hundreds of dollars (about half its price) just for the advertising cost. That does nothing for you!

The main advertised feature of the Sleep Number® Bed is adjustable firmness. This feature is available on many air beds that cost hundreds less!

The Sleep Number&reg foundation and legs are huge space wasters that permit unhealthy dust to accumulate under the bed where it is impossible to remove. The legs provide only a small number of support points that allow the plastic foundation to flex and break. You pay up to $620 for a product that has less support, wastes valuable space and allows dust to collect under your bed - in our opinion, a very poor investment!

The Sleep Number&reg inflator controls only adjust in increments of 5 points, so they are not precise. They can also lack key functions, such as "memory" and "fast-fill".

Most importantly, Sleep Number® Beds that cost less than $4,300 do not have memory foam, which is critical for alleviating the pain-causing pressure points that disturb sleep.