The World's Most Luxurious
Mattress Pad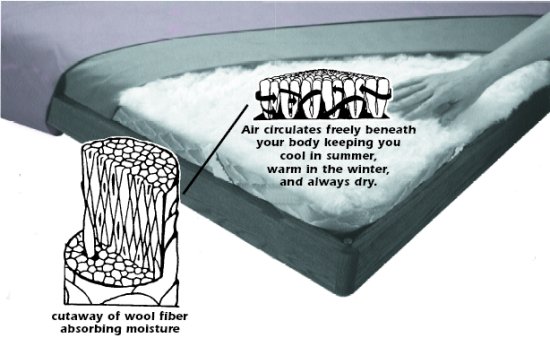 The finishing touch to the Bedroom Organizer™ is the "puff wool" mattress pad shown above. Nothing, not even "down" has the superior qualities of 100% virgin wool. Wool's fibers are soft and springy, so they easily conform perfectly to your body's shape, smoothing out presure points, and thus improving poor blood circulation which is the cause of numbness. And, because wool can absorb up to 1/3 of its own weight in mois- ture and yet not feel damp, (on average, a person perspires 1 cup of fluid during sleep each night) it will continually draw moisture away from your body all night long, keeping you (and your sheets) cool and dry on hot, muggy, summer nights! During wintery nights, you can keep the bedroom thermostat set low for easy breathing because wool will then keep you cozy warm as it traps and holds your own body heat. Wool is truly the insulating miracle of creation. That's why desert dwellers wear woolen clothing. It keeps them cool and dry during the hot, burning days, yet warm during the cold, frigid nights. No other product can offer you all the benefits of pure wool.

Our "puff wool" mattress pads are 100 pure American Virgin Wool. They're flame resistant and antimocrial treated to prevent odors, mildew, germs, fungus, and dust mite infestation. Snug fitting elastic straps hold them in place.


Machine Washable
(Pads are approximately 1-1/4" thick.)
©Copyright 2011 Anderson Manufacturing, Inc.