The World's Most Luxurious Mattress Pad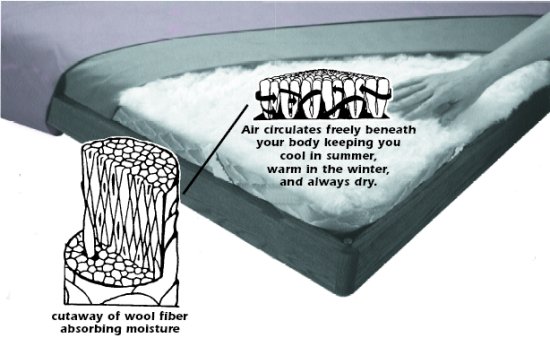 The finishing touch to your Ultimate Bed is a luxurious, dual-sided pure wool mattress pad.

Side #1: 100% Cotton Percale (270 thread count) keeps you dry and cool in summer heat.

Side #2: 100% Merino Wool Fleece, keeps you warm and cozy during cold winter nights.

Nothing, including "down" has the superior qualities of wool. Wool absorbs moisture 7 times faster than other fibers. It can absorb 1/3 of its weight in moisture, and yet not feel damp. It's truly the insulating miracle of creation, and can prevent odors, mildew, germs, fungus and dust mite infestation.

Pads are machine washable. They're flame resistant and antimicrobrially treated. Snug fitting elastic straps hold them securely in place.


Machine Washable
(Pads are approximately 1" thick.)
©Copyright 2011 Anderson Manufacturing, Inc.