Bed 6
Sold Wood 3 to 4 Drawer Twin Underbed Dresser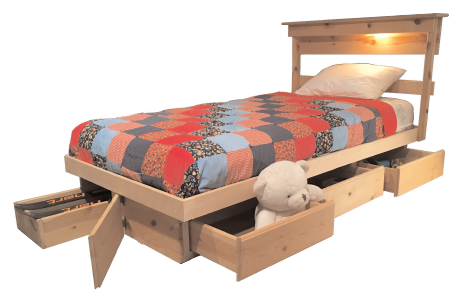 Made in USA
Choose Only
The Options
You Want
Optional
Lit Headboard
Optional
Platform
4-1/2 Ft. Long
End Drawer
Included
4 Drawer
Underbed Dresser
Low As
$504.
54"
9" H
This Bed Can Increase in Size as Your Child Grows!
This is a perfect bed for a small child. It eliminates the need for a wall dresser, producing more space for playing. It has a place for clothes, toys, games and long, bulky, odd-shaped things too. There are also other optional items. It's a perfect product for teaching your child how to organize and put things away to keep the room clean and neat. As your child grows older, the 3 drawer dresser can be changed into a 6 drawer dresser, and when it's time to go to college, it can be changed into the Ultimate 12 drawer dorm bed. After college it can be changed into two beds - a three drawer twin and a 6 drawer queen or king. This bed is made in the USA to last a lifetime!
Size: 75 L x 41 W x 9 H
3 Side Drawers 19 W x 17 D x 6 H
Full Extension Ball-Bearing Slides
One 4-1/2 Ft. End Drawer
Exterior Solid Oak or Pine
Adjusts to Fit Any Room Arrangement
Tongue & Groove Screw Construction
50 Year Warranty
Can be Converted to Other Bed Sizes
Made in USA
Scroll to Bottom to Get Quote or Place Order
©Copyright 2011 Anderson Manufacturing, Inc.