Greetings To You From Lois & Bob . . . . Owners of Anderson Manufacturing Company
Located in Menominee Michigan, USA
Thank you for visiting our web site! We invented and patented the Underbed Dresser, and the Pure Health® Mattress. We have been manufacturing consumer products for more than 50 years. You can have complete confidence in ordering from our company, as we are the most highly respected manufacturers in our industry.
Our honesty, integrity and hard work guarantee your complete satisfaction. In fact, we insist upon it by providing you a
30 day home trial and 50 year warranty
. Our goals have always been to produce the best products at the lowest price possible, and, never to have a dissatisfied customer! Our business was built on the highest principles, which we never have, nor ever will compromise.
Pure Health®
Mattress
For Mattress Summary
Click Here
(built-in lighting)
Scroll Down
To Order
Free Sample Kit
For Details
Click on
Any Item
You can
use your
Mattress
Made In USA
50 Year Warranty

The Fastest, Easiest, Most Economical Way to Add Storage to Your Bedroom
The Bedroom Organizer™ organizes and stores everything in your bedroom - your clothes, bedding, shoes, purses, luggage, guns, and big, bulky, long, and odd shaped items - everything you can think of - in up to 24 beautiful, large super-strong, solid wood, ballbearing guided, dust proof, drawers, conveniently located in beautiful dressers under your bed where they won't use even one inch of your precious floor space!
NOTE: You can order a
Free Sample Kit
at bottom of page
Like you, many Internet shoppers would like to see the quality of products before ordering, but, with the Internet, that's not possible. So, to solve that problem, we offer a very special, totally free sample kit that has samples of everything you want to know about our products. We even pay the delivery cost. You can see or order kit at bottom of page.
With our kit you can order with confidence
We received the kit, opened it, and within 20 minutes, made our decision.

Penni, AZ
The kit was great. I really needed to see the stain options and it was perfect.

Joey, CA
I like the kit, and being an engineer, it was great to see the quality of the different parts that go into the bed.

Matt, CO
Triples drawer storage
Makes use of your wasted space
100% dust proof storage
Far stronger than bed frame
Solid wood construction
Eliminates wall dressers
Stores shoes - purses - books
Stores odd, long, bulky items
Ball bearing drawer slides
Adjusts to fit all bed sizes
Eliminates all underbed dust
Increases bedroom floor space
Saves hundreds more than it costs
Stores all of your clothes
Stores pillows, sheets, blankets, etc.
Far more rigid than bed frames
Eliminates cost of bed frame
Eliminates cost of box spring
Eliminates underbed cleaning
Creates a beautiful bedroom suite
Increases life span of mattress
Provides superior mattress support
Allows larger bed in a small room
Has a 50 Year Warranty
Made in USA
30 day home trial
The Pure Health® Mattress has far more benefits, but costs
thousands less than beds such as the Number Bed&reg or Tempurpedic® Bed.
Molds to your body!
Calms pressure points
Costs hundreds less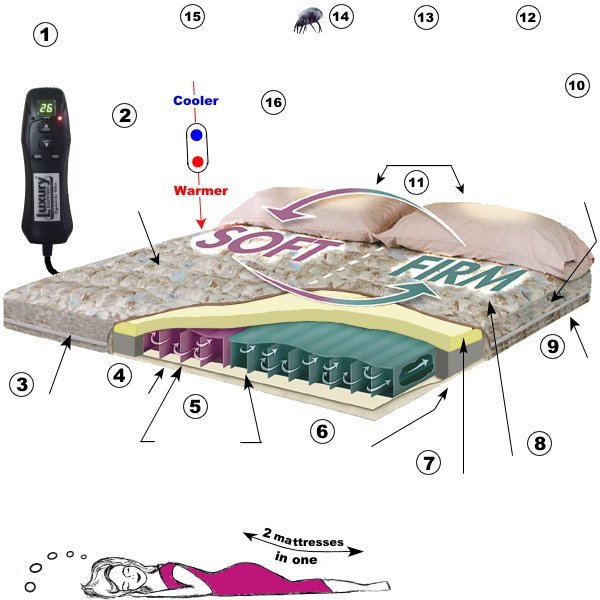 Women - Get Rid of Hot Flashes!
cools or heats each side of mattress
No
Flipping!
No Body
Impressions
in Cover!
Has
Highest
Dollar
Value
It's Like
Having Two
Separate
Beds!
Continous
Velcro
Strip Makes
Removing Simple
for Washing
Anti-Skid
Bottom
Thick Memory
Foam
Layer
Alleviates
Pressure Points
(Like Tempurpedic®)
Made in USA



Ultra precision firmness control
Wool filling in top cover
Antimicrobial Bamboo fabric
Removable launderable cover
Built-in fire barrier protection
Anti skid mattress bottom
2 separate adjustable air chambers
Re-enforced edges for sitting
3" thick, plush memory foam layer
Treated for mold, mildew & dust mites
Individual warm or cool temperature controls
Never needs flipping or rotating
Lasts far far longer than spring mattress
Wool to repel dust mites & bed bugs
1/2 the price of less comparable mattress
Has most features of any mattress
Made in the USA
30 days home trial
Combines Sleep Number® & Tempurpedic®
to create the most advanced mattress
Has platform that extends life of mattress
Sample Kit
If you want to see it - touch it - smell it - try it - squeeze it - stroke it – test it before ordering, order our free sample kit to see the different wood types, aromatic cedar drawer liner, all stain colors, ball bearing drawer slide, memory foam, bamboo mattress cover fabric, and detailed product information. No Other Business Does This!